What Questions Do I Need to Ask My Child's Therapist As you sit down in the therapy office?
Maybe this isn't the first time you've sought therapy for your child, and you're wondering if this counselor will have the answers you need. If this is your first time looking for a counselor for your child, you may feel overwhelmed about where to start. But even if you've been to counseling before, finding the right fit for your family is a huge step. You probably have a plethora of questions to ask.
It's crucial to find a therapist who is a good match for your child. We all improve faster or heal when we're working with a counselor we like and trust—whether we're 9 or 99. You don't always have to agree, but you should feel safe talking to them. Also, try to find someone who specializes in the problems that bring you to therapy.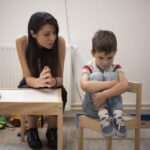 What are some questions you can ask during your first visit with a new therapist or child psychiatrist to see if they're a good fit for you? Read on and find out:
May I Know About Your Experiences with Children Like Mine?
You can ask about their experiences with children who need similar services, or even the same services. Just the fact that they know your child's problems are real and they've seen them before shows that they understand. Then you can ask about their successes and failures, which will help you know if they're willing to be honest with you. They should also tell you what they believe contributed to a good outcome, which shows they have empathy and open-mindedness.
How Will I Be Involved in My Child's Therapy Sessions?
You want to know if the therapist will involve you in your child's therapy. A good therapist will offer you a chance to participate in your child's therapy, at least some of the time. This can mean asking you to come to the sessions, asking you to do exercises with your child at home, or making you and your child's other parent part of the therapy team. A therapist might even ask you to do family therapy. Like the therapist, you should do things that you feel comfortable with.
What Can I Do to Support My Child's Progress at Home?
You can ask a therapist about the homework and exercises you can do at home on a regular basis. They should help you figure out ways to make a plan at home. This can include tips for when your child is feeling really sad, behavior management, and other methods that you can use every day.
Can You Give Me an Estimate of How Long It Takes to Complete Therapy?
A good therapist can tell you what to expect in therapy. They will be willing to give you a timeline of how long it should take to complete treatment. Then, they can also tell you what they will be doing every week to help your child. This should be based on your child's individual needs, not on the number of sessions needed to finish the book.
Conclusion
When you're looking for a therapist for your child, it's important to find the right fit. Whether you're seeking help for the first time or seeking help again for their childhood anxiety, you need to find a therapist who best understands your child's needs and will help them feel empowered.
The best therapists will be honest with you, work closely with you, and help your child feel positive and hopeful.
Children Psych offers tailored psychiatric mental health care for children and families in Orange and Long Beach California, as well as Phoenix, Arizona. Our seasoned pediatric psychiatrist can help children and adolescents deal with mental health and substance use disorders. Get in touch with us today to learn more about our services!